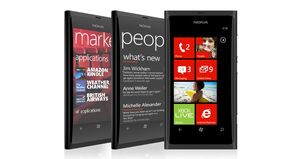 Windows Phone is a mobile operating system developed by Microsoft, and is the successor to its Windows 10 Mobile platform,[1] although incompatible with it.[2] Unlike its predecessor, it is primarily aimed at the consumer market rather than the enterprise market.[3] It was launched in Europe, Singapore, Australia, New Zealand, the US, Canada, Mexico, and the EPAL region in the second half of 2010, and Asia in early 2011.[4] With Windows Phone, Microsoft offers a new user interface with its design language named Metro, integrates the operating system with third party and other Microsoft services, and controls the hardware on which it runs.[5]
History
Development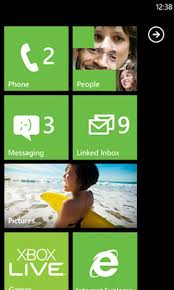 Work on a major Windows Mobile update may have begun as early as 2004 under the codename "Photon", but work moved slowly and the project was ultimately cancelled.[6] In 2008, Microsoft reorganized the Windows Mobile group and started work on a new mobile operating system.[7] The product was to be released in 2009 as Windows Phone, but several delays prompted Microsoft to develop Windows Mobile 6.5 as an interim release.[8]
Windows Phone was developed quickly. One result was that Windows Mobile applications do not run on it. Larry Lieberman, senior product manager for Microsoft's Mobile Developer Experience, told eWeek: "If we'd had more time and resources, we may have been able to do something in terms of backward compatibility."[9] Lieberman said that Microsoft was attempting to look at the mobile phone market in a new way, with the end user in mind as well as the enterprise network.[9] Terry Myerson, corporate VP of Windows Phone engineering, said, "With the move to capacitive touch screens, away from the stylus, and the moves to some of the hardware choices we made for the Windows Phone 7 experience, we had to break application compatibility with Windows Mobile 6.5."[10]
Naming
The name 'Windows Phone' is a rebranding of Microsoft's old mobile OS called 'Windows Mobile'. Before the official announcement of 'Windows Phone 7', Microsoft began to refer to devices running Windows Mobile as "Windows Phones". Microsoft at first announced its new platform as "Windows Phone 7 Series" which initially came under criticism as being too wordy and difficult to say casually. Responding to this, on April 2, 2010 Microsoft announced that the "Series" would be dropped from the name, leaving the platform named Windows Phone 7.[11] The official statement on the matter was:
"Customers want a simpler way to say and use the name consistently. The important thing is keeping the focus on the Windows Phone brand, which we introduced in October and will continue investing in through Windows Phone 7 and beyond."
Launch
In February 2010, a Microsoft press release listed the companies that would help make and operate Windows Phone. Many hardware makers were listed in the release.
Microsoft unveiled Windows Phone on February 15, 2010, at Mobile World Congress 2010 in Barcelona[12] and revealed additional details at MIX 2010 on March 15, 2010. The final SDK was made available on September 16, 2010.[13]
HP later decided not to build devices for Windows Phone, citing that it wanted to focus on devices for its newly purchased webOS.[14]
Windows Phone supports twenty-five languages and Windows Phone Marketplace allows buying and selling applications in 35 countries and regions.[15]
Partnership
Launch partners
On October 11, 2010, Microsoft's CEO Steve Ballmer announced 10 devices operating Windows Phone, made by HTC, Dell, Samsung, and LG, with sales beginning on October 21, 2010 in Europe and Australia and November 8, 2010 in the United States. The devices were available on 60 carriers in 30 countries, with additional devices to be launched in 2011.[16]
Partnership with Nokia
File:Nokia-windows-phone-7.jpg smartphone running Windows Phone]] On 11 February 2011, at a press event in London, Microsoft CEO Steve Ballmer and Nokia CEO Stephen Elop announced a partnership between their companies in which Windows Phone would become the primary smartphone operating system for Nokia.[17] The event was largely focused on creating "a new global mobile ecosystem", suggesting competition with Android and iOS by saying "It is now a three horse race". Integration of Microsoft services with Nokia's own services were announced; specifically that Bing would power search across Nokia devices, and an integration of Nokia Maps with Bing Maps, as well as Nokia's Ovi store being integrated with the Windows Phone Marketplace.[17] The partnership involves "funds changing hands for royalties, marketing and ad-revenue sharing", which Microsoft later announced was, "measured in billions of dollars."[18] The first Nokia Windows phones, the Nokia Lumia 800 and Nokia Lumia 710, were announced in October 2011 at Nokia World 2011 event.[19][20]
Other OEM partners
Microsoft, on May 25, 2011, has announced expansion of partners who plan to release Windows Phone. Acer, Fujitsu, and ZTE, in addition to Nokia, released their first Windows Phones based on the first major upgrade to Windows Phone platform.[21]
Version history
7.0.7008 improve update process for future update
7.0.7390 "NoDo" added CDMA support, Copy and Paste, fast application startup, and deeper Facebook Integration
7.0.7392 revoke of fraudulent certificates
7.0.7403 pre-Mango update
7.10.7740 fixed email issue in Microsoft Exchange Server 2003 and voicemail notification issue.[28]
Future updates
Windows Phone Tango
Tango will be a minor update, similar to the "NoDo" update. It will help Windows Phone to run on low-cost devices, with 256 MB RAM.[30]
Windows Phone Apollo
Apollo is the codename for next generation of Windows Phone, as confirmed at an MSDN seminar in August 2011.[31] It is expected to launch in mid-2012 and Engadget believes that Apollo actually refers to Windows Phone 8.[32] It is believed the update will add NFC technology, dual-core chipsets support, higher-resolution screens to the platform, and eventually lead to a convergence of Microsoft's operating systems for PCs, phones, tablets,[33] and video game consoles seeing as the Xbox 360 also uses the Metro interface. It is speculated that Microsoft plans to move Windows Phone kernel from Windows CE into the isolated Windows core informally called MinWin that is the basis of Windows 7 and Windows 8, by rearranging APIs for both Windows and Windows Phone.[34]
Features
User interface
Windows Phone features a new user interface, based upon Microsoft's Windows Phone design system, codenamed Metro.[35] The home screen, called the "Start screen", is made up of "Live Tiles". Tiles are links to applications, features, functions and individual items (such as contacts, web pages, applications or media items). Users can add, rearrange, or remove Tiles.[36] Tiles are dynamic and update in real time - for example, the tile for an email account would display the number of unread messages or a Tile could display a live update of the weather.[37]
Several features of Windows Phone are organized into "hubs", which combine local and online content via Windows Phone's integration with popular social networks such as Facebook, Windows Live, and Twitter.[37] For example, the Pictures hub shows photos captured with the device's camera and the user's Facebook photo albums, and the People hub shows contacts aggregated from multiple sources including Windows Live, Facebook, and Gmail. From the Hub, users can directly comment and 'like' on social network updates. The other built-in hubs are Music and Video (which integrates with Zune), Games (which integrates with Xbox Live), Windows Phone Marketplace, and Microsoft Office.[37]
Windows Phone uses multi-touch technology.[37] The default Windows Phone user interface has a dark theme that prolongs battery life on OLED screens as fully black pixels don't emit light.[38] The user may choose a light theme instead, and can also choose from several accent colors.[39] User interface elements such as tiles are shown in the user's chosen accent color. Third-party applications can be automatically themed with these colors.[40][41]
Text input
Users input text by using an on-screen virtual keyboard, which has a dedicated key for inserting emoticons,[42] and features spell checking[42] and word prediction.[43] Users may change a word after it has been typed by tapping the word,[44] which will invoke a list of similar words. Pressing and holding certain keys will reveal similar characters. The keys are somewhat larger and spaced farther apart when in landscape mode. Phones may also be made with a hardware keyboard for text input.[45]
Messaging
Windows Phone combined messaging through "threads". Threads allow the Windows Phone user to engage with their contacts through Windows Live Messenger and Facebook Chat as well as traditional text messages. Text message can also be composed through voice recognition. Voice recognition allows speech to be converted to text message and also allows text message to be converted to speech which can be read aloud.
Web browser
Windows Phone 7.5 features a version of Internet Explorer Mobile with a rendering engine that is based on Internet Explorer 9.[46]
Internet Explorer on Windows Phone allows the user to maintain a list of favorite web pages and tiles linking to web pages on the Start screen. The browser supports up to 6 tabs, which can all load in parallel.[47] Other features include multi-touch gestures, a streamlined UI, smooth zoom in/out animations, the ability to save pictures that are on web pages, share web pages via email, and support for inline search which allows the user to search for a word or phrase in a web page by typing it.[48] Microsoft has announced plans to regularly update the Windows Phone web browser and its layout engine independently from the Windows Phone Update system.[49]
In a demo, Microsoft said that users will be able to stream YouTube videos from the browser. Clicking on a video from the mobile YouTube website will launch the video in a standalone app and will also add the YouTube video to the Music + Video Hub.[50]
Contacts
Contacts are organized via the "People hub". Contacts can be manually entered into contacts or imported from Facebook, Windows Live Contacts, Twitter, and LinkedIn. A "What's New" section show news feed and a "Pictures" section show pictures from those social networks made by the contacts. A "Me" section show the phone user's own social networks status and wall, allow the user to update his status, and check-in to Bing and Facebook Places. Contacts can be added to the home screen by pinning them to the start. The contact's "Live Tile" displays his social network status and profile picture on the homescreen and the contact's hub displays his Facebook wall as well as all of the rest of his contact information and information from his other social networks.
If a contact has information stored on multiple networks, users can link the two separate contact accounts, allowing the information to be viewed and accessed from a single card.[51] As of Windows Phone 7.5, contacts can also be sorted into "Groups". Here, information from each of the contacts is combined into a single page which can be accessed directly from the Hub or pinned to the Start screen.
Email
Windows Phone supports Hotmail, Exchange, Yahoo! Mail, and Gmail natively and supports many other services via the POP and IMAP protocols. For the native account types, contacts and calendars may be synced as well. Users can also search through their email by searching in the subject, body, senders, and receivers. Emails are shown in threading view and multiple email inboxes can be combined or kept separate.
Multimedia
Zune for Windows Phone is a built-in application providing entertainment and synchronization capabilities between PC and Windows Phone.[52] The Windows Phone multimedia experience is divided into two distinct hubs, the "Music + Videos" hub and the "Pictures" hub, both of which are similar in appearance and functionality to that of the Zune HD.
The "Music + Videos hub" allows the user to access music, videos, and podcasts stored on the device, and links directly to the Windows Phone Marketplace to buy music, or rent it with the Zune Pass subscription service. When browsing the music by a particular artist, users are able to view artist biographies and photos, provided by the Zune Software.[42] This hub integrates with many apps that provide video and music service, including, but not limited to, iHeartRadio, Youtube, and Vevo. This hub also includes Smart DJ which compiles a playlist of songs stored on the phone similar to the song or artist selected.
The "Pictures hub" displays the user's Facebook and Windows Live photo albums, as well as photos taken with the phone's built-in camera. Users can also upload photos to social networks, comment on others photos, and tag photos on social networks directly from the Pictures hub.[42] Multi-touch gestures permit zooming in and out of photos.
Media support
According to Brandon Miniman's test review for pocketnow.com, he stated "if Zune can play it, your Windows Phone 7 device can play it" - this refers to the supported playback of files.[53] The audio file formats, supported, include WAV, MP3, WMA, AMR, AAC/MP4/M4A/M4B and 3GP/3G2 as standards. The video file formats, supported, include WMV, AVI, MP4/M4V, 3GP/3G2 and MOV (QuickTime) standards. These supported audio and video formats would be dependent on the codecs contained inside them. It has also been previously reported that the DivX and Xvid codecs within AVI are also playable on the system.[54][55] Unlike the previous Windows Mobile operating system, there are currently no third-party applications for handling other video formats. The image file formats that are supported include JPG/JPEG, PNG, GIF, TIF and Bitmap (BMP).[56][57]
Games
Xbox Live on Windows Phone provides some Xbox 360 features on Windows Phone devices by displaying the user's avatar in a 3D fashion. Via "Games hub", the users are able to interact with the avatar, view gamerscore and leaderboards, message Xbox Live friends, and Spotlight.[58] Multiplayer (turn-based) gaming with live multiplayer are also released.[59] Microsoft has unveiled more than 50 premium Windows Phone Games titles at Gamescom that makes use of Xbox Live on mobile.[60] Xbox Live on Windows Phone currently doesn't offer real-time multiplayer games, but will be added in the future.[61] Some key features of Xbox Live on Windows Phone include ability to be signed in simultaneously on the console and phone, send and receive messages between Console and Phone, unlock unique gamer points only available by purchasing the gaming title on the phone, etc.
Search
Microsoft's hardware requirements stipulate that every Windows Phone must have a dedicated Search button on the front of the device that performs different actions.[37] Pressing the search button while an application is open will allow users to search within applications that take advantage of this feature; for example, pressing Search in the People hub will let the users search their contact list for specific people.[62] This has been changed in Windows Phone 7.5 however - as the search button is reserved for Bing - so applications that previously used this feature (such as the Marketplace) now include soft search buttons.
In other cases, pressing the Search button will allow the user to perform a search of web sites, news, and map locations using the Bing application.[63]
Windows Phone also has a voice recognition function, powered by TellMe, which allows the user to perform a Bing search, call contacts or launch applications by speaking. This can be activated by pressing and holding the phone's Start button.
Bing is the default search engine on Windows Phone handsets due to its deep integration of functions into the OS (which also include the utilization of its map service for location-based searches and queries). However, Microsoft has stated that other search engine applications can be used.[63][64][64]
Aside from location-based searches, Bing Maps also provide turn-by-turn navigation service to Windows Phone user and Local Scout shows interest points such as attractions and restaurants in the nearby area.
Bing Audio allows the user to match a song with its name and Bing Vision allows the user to match barcodes and tags with the product online.
Office suite
The "Office hub" organizes all Microsoft Office apps and documents. Microsoft Office Mobile provides interoperability between Windows Phone and the desktop version of Microsoft Office. Word Mobile, Excel Mobile, PowerPoint Mobile, OneNote Mobile, and SharePoint Workspace Mobile allow most Microsoft Office file formats to be viewed and edited directly on a Windows Phone device.
Microsoft Office files from SkyDrive and Office 365, as well as files stored locally on the phone, can be accessed through the Office Hub. Office files are sorted by tiles: Word documents (blue tile), Excel spreadsheets (green tile), PowerPoint presentations (red tile), and OneNote documents (purple tile).
Multitasking
In Windows Phone 7, multitasking is limited to bundled apps. Starting with Windows Phone 7.5, a card-based task switcher can be accessed by pressing and holding the back button. The screenshot of last five open app are shown as cards. Apps can be kept running even when out of view through "Live Agents".[65] In other cases, apps are suspended and can be quickly resumed.
Sync
Zune Software manages the contents on Windows Phone devices and Windows Phone can wirelessly sync with Zune Software. In addition to accessing on the Windows Phone devices, Zune software can also access the Zune Marketplace to purchase music, videos, and all apps for Windows Phone. While music and videos are both stored locally on the PC and on the phone, apps are only stored on the phone even if purchased from the Zune Software. Zune Software can also be used to update all Windows Phone devices. Although Zune Software is unavailable on Mac OS X operating system, Microsoft has released Windows Phone Connector which allow Windows Phone devices to sync with iTunes for Mac and iPhoto.[66][67][68]
Updates
According to Microsoft documentation, software updates will be delivered to Windows Phone users via Microsoft Update, as is the case with other Windows operating systems.[69] Microsoft had the intention to directly update any phone running Windows Phone instead of relying on OEMs or wireless carriers,[70] but on January 6th 2012, Microsoft changed their policy to let carriers decide if an update will be delivered.[71] The software component, called Windows Phone Update, exists both on the phone (for smaller updates, over-the-air) and in the Zune Software for Windows PCs (for larger updates, via USB connection). Users will be notified to attach their phones to a PC if such an update is required.[72] Microsoft has said that in the future, all updates, both large and small will eventually support over-the-air downloads.[73] Charlie Kindel, Program Manager for the developer experience of Windows Phone, confirmed that the update infrastructure system for Windows Phone was available and that Microsoft is "in a position where we have the systems in place to effectively and reliably deliver updates to (Windows Phone) users".[74]
Microsoft plans to regularly ship minor updates that add features throughout the year, and major updates once a year.[75]
All third-party applications can be updated automatically from the Windows Phone Marketplace.[76]
Advertising platform
Microsoft has also launched an advertising platform for the Windows Phone platform. Microsoft's General Manager for Strategy and Business Development, Kostas Mallios, said that Windows Phone will be an "ad-serving machine", pushing advertising and brand-related content to the user. The platform will feature advertising tiles near applications and toast notifications, which will bring updating advertising notifications. Mallios said that Windows Phone will be able to "preserve the brand experience by going directly from the web site right to the application", and that Windows Phone "enables advertisers to connect with consumers over time".[77] Mallios continued: "you're now able to push information as an advertiser, and stay in touch with your customer. It's a dynamic relationship that is created and provides for an ongoing dialog with the consumer."[78]
Bluetooth
Windows Phone supports the following Bluetooth profiles:[79]
Advanced Audio Distribution Profile (A2DP 1.3)
Audio/Video Remote Control Profile (AVRCP 1.3)
Hands Free Profile (HFP 1.5)
Headset Profile (HSP 1.1)
Phone Book Access Profile (PBAP 1.0)
Marketplace
The Windows Phone Marketplace is used to digitally distribute music, video content, podcasts, and third party applications to Windows Phone handsets. The marketplace is accessible using the Zune Software client or the marketplace hub on devices (though videos are not downloadable through the marketplace hub and must be downloaded and synced through the Zune software).[80] The marketplace is managed by Microsoft, which includes an approval process.
Music and videos
Zune Marketplace offers 14 million songs up to 320 kbit/s in DRM-free MP3 format from the big four music groups (EMI, Warner Music Group, Sony BMG and Universal Music Group), as well as smaller music labels. It offers movies from Paramount, Universal, Warner Brothers, and other studios and also offer television shows from popular television networks.
Microsoft also offers Zune Pass music subscription service which allows subscribers to download an unlimited number of songs for as long as their subscription is active.
Applications and games
Development
Third party applications and games for Windows Phone must be based on XNA or a WP7 specific version of Silverlight[81] only.[82] For Windows Phone apps to be designed and tested within Visual Studio 2010 or Visual Studio 2010 Express editions, Microsoft offers Windows Phone Developer Tools as an extension. Windows Phone Developer Tools run only on Windows Vista SP2 and later.[83] Windows XP and Windows Server 2003 are not supported. Microsoft also offers Expression Blend for Windows Phone for free.[84] On November 29, 2009, Microsoft announced the Release to web (RTW) version of its Visual Basic .NET Developer Tool, to allow development in Visual Basic.[84]
Submission
Registered Windows Phone and Xbox Live developers can submit and manage their third party applications for the platforms though the App Hub web applications.[85] The App Hub provides development tools and support for third-party application developers. The submitted applications undergo an approval process for verifications and validations to check if they qualify the applications standardization criteria set by Microsoft.[86] The cost of the applications that are approved is up to the developer, but Microsoft will take 30% of the revenue (the other 70% goes to the developer).[87] Microsoft will only pay developers once they reach a set sales figure, and will withhold 30% tax from non-US developers, unless they first register with the United States Government's Internal Revenue Service. Microsoft only pays developers from a list of thirty countries.[88] A yearly fee is also payable for developers wishing to submit apps.[89]
In order to get an application to appear in the Windows Phone Marketplace, the application must be submitted to Microsoft for approval.[88] Microsoft has outlined the content that it will not allow in the applications, which includes content it deems "sexually suggestive".
Hardware
System requirements
Microsoft has said that it is issuing "tough, but fair" hardware requirements to manufacturers.[90] All Windows Phone devices, at minimum, must include the following:[91][92]
Until November 7th, 2011 camera, compass and gyroscope had been required.[94][95]
Reception
Reviews
Reception to Windows Phone has been generally positive which Engadget and Gizmodo felt were notable omissions in a modern smartphone OS which has largely been addressed in the Mango update. ZDNet praised the OS's virtual keyboard and noted the excellent touch precision as well as powerful auto-correct and revision software.[42][96] The touch responsiveness of the OS has also been universally praised by all three sites with reviewers noting the smoothness of scrolling and gestures like pinch to zoom in web browsing.[97]
The reception to the "Metro" UI and overall interface of the OS has also been highly praised for its style, with ZDNet noting its originality and fresh clean look.[98] Engadget and ZDNet applauded the integration of Facebook into the People Hub as well as other built in capabilities, such as Windows Live, etc.
According to Gartner, 1.7 million smartphones using a Microsoft mobile OS were sold world wide in the second quarter of 2011, for a 1.6% market share.[99] In the third quarter of 2011, WP7's world wide market share dropped slightly to 1.5%.[100]
Studies carried out by Nielsen Company indicated that in the US, WP7 achieved a smart phone market share of 1% each in the periods March to May,[101] and May to July 2011.[102] For Q3 2011, Nielsen reported a US market share of 1.2% for WP7,[103] which rose to 1.4% in Q4 2011.[104]
Awards
Windows Phone was presented with a total of three awards at the 2011 International Design Excellence Awards; Gold in Interactive Product Experience, Silver in Research and Bronze in the Design Strategy.
"The Windows Phone 7 was built around the idea that the end user is king. The design team began by defining and understanding the people who would use this phone. It was convinced that there could be a better user experience for a phone, one that revolves more around who the users are rather than what they do. The Windows Phone 7 lets users quickly get in, get out and back to their lives."[105]
At the awards ceremony, Windows Phone 7 was given "the noteworthy People's Choice Award, an award handed to the favorite IDEA 2011 gold award winner."[106]
it's very good admit card and answer key ...
See also
References
External links
Device software
Desktop synchronization
Services
Server utilization
Development
Models

LG Jil Sander
Samsung Omnia M
ZTE Orbit

Other Devices
Community content is available under
CC-BY-SA
unless otherwise noted.