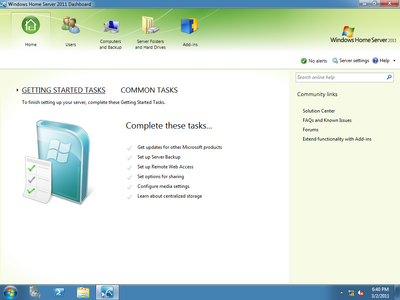 Windows Home Server 2011, code named Vail, is a home server operating system by Microsoft and a successor to the Windows Home Server 'Quattro' operating system designed for Small Office/Home Office (SOHO). Windows Home Server is intended to be a solution for homes with multiple connected PCs to offer protected file storage, file sharing, automated PC backup, remote access, and remote control of PC desktops.
Windows Home Server 2011 (Vail) was released on 6 April 2011. Windows Home Server 2011 supports only x86-64 hardware.
Features
No new features have been announced by Microsoft, but reportedly will include additional entertainment capabilities, including web-based media functionality
Initial speculation by technology columnist Mary Jo Foley fueled the idea that 'Vail' would integrate with Windows Media Center. This prompted the response "Time will tell" by Microsoft Windows Home Server Product Planner Todd Headrick, but by the time of the public beta Microsoft had decided not to integrate Windows Media Center with 'Vail'.
System requirements
System requirements

| Component | Required specifications |
| --- | --- |
| CPU | 1.3 GHz x86-64 Dual Core or 1.4 GHz x86-64 Single Core |
| RAM | 2 GB (8 GB Maximum) |
| Hard disk space | At least one 160 GB drive |
Windows 7 is recommended to install Windows Home Server 2011.
Drive Extender removal
On 23 November 2010, Microsoft announced that Drive Extender would be removed from Windows Home Server 2011. This announcement has led to "astonishment and outrage" from testers and users. Criticism of Drive Extender's removal is mainly related to it being seen as a core feature of Windows Home Server and a key reason for adoption. Windows Home Server 2011 developer Michael Leworthy expressed concern that the implementation of Drive Extender might lead to "data error issues."
Update Rollup 3 Beta announced for Windows Home Sever 2011
On August 14, 2012, Microsoft announced there is an Update Rollup Pack 3 for Windows Home Server 2011.
Community content is available under
CC-BY-SA
unless otherwise noted.