Windows 8 is an operating system produced by Microsoft for use on personal computers, including home and business desktops, laptops, and tablets. It is part of the Windows NT family of operating systems, succeeds Windows 7 and precedes Windows 8.1 and Windows 10.
Development of this operating system started before the release of its predecessor in 2009. Its existence was first announced in January 2011 at Consumer Electronics Show. During its development and test phases, Microsoft released three pre-release versions: Developer Preview (September 13, 2011), Consumer Preview (February 29, 2012), and Release Preview (May 31, 2012). On August 1, 2012, Windows 8 graduated from the development stage and was released to manufacturing. Windows 8 was slated for general availability on October 26, 2012.
Windows 8 is built based on Metro design language and introduces a new form of "Windows 8-style software", which may only be obtained through Windows Store. Windows 8 also features a new start screen, Internet Explorer 10, native support for USB 3.0, a new Windows Defender that combats malware (instead of only spyware), Windows To Go, and support for UEFI SecureBoot. The last of these has stirred controversy.
Windows 8 was available in four major editions: Windows 8, Windows 8 Professional, Windows 8 Enterprise, and Windows RT 8, Windows Phone 8. The first three had almost the same hardware requirements as that of Windows 7. The latter, however, ran on tablet computers with ARM architecture and had different hardware requirements. Hardware vendors willing to receive Microsoft's certification for such devices needed to adhere to a list of certification requirements. Windows 8 Enterprise and Windows RT were not made available at retail outlets.
Development
Early announcements
Windows 8 development started before Windows 7 had shipped[1] in 2009. In January 2011, at the Consumer Electronics Show (CES), that Microsoft announced that Windows 8 would be adding support for ARM microprocessors in addition to the x86 microprocessors from Intel, AMD and VIA.[2][3] On June 1, 2011, Microsoft officially unveiled Windows 8's new user interface as well as additional features at the Taipei Computex 2011 in Taipei (Taiwan) by Mike Angiulo and at the D9 conference in California (United States) by Julie Larson-Green and Microsoft's Windows President Steven Sinofsky.[4][5] A month before the BUILD conference was held, Microsoft opened a new blog called "Building Windows 8" for users and developers on August 15, 2011.[6]
Developer Preview

Microsoft unveiled new Windows 8 features and improvements on the first day of the BUILD conference on September 13, 2011.[7] Microsoft also released the Windows Developer Preview (build 8102) of Windows 8 the same day, which included SDKs and developer tools (such as Visual Studio Express and Expression Blend) for developing applications for Windows 8's new interface.[8] According to Microsoft, there were more than 500,000 downloads of the developer preview within the first 12 hours of its release.[9] The Developer Preview also introduced the Start screen. The Start button in the desktop opened the Start screen instead of the Start menu.
On 16 February 2012, Microsoft postponed the expiration date of the developer preview. Originally set to expire on 11 March 2012, this release is now set to expire on 15 January 2013 and expired.[10]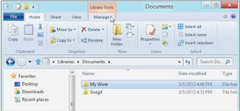 Consumer Preview
On 29 February 2012, Microsoft released Windows 8 Consumer Preview, the beta version of Windows 8, build 8250. For the first time since Windows 95, the Start button is no longer present on the taskbar, though the Start screen is still triggered by clicking the bottom-left corner of the screen and by clicking Start on the Charm bar.[11] Windows president Steven Sinofsky said more than 100,000 changes had been made since the developer version went public.[11] The day after its release, Windows 8 Consumer Preview had been downloaded over one million times.[12][13] Like the Developer Preview, the Consumer Preview is set to expire on January 15, 2013 and expired. People were not happy about the new Metro UI, and the fact that it had no start button.
Release Preview
At Japan's Developers Day conference, Steven Sinofsky announced that the Windows 8 Release Preview (build 8400) would be released during the first week of June.[14] On May 28, 2012, the Windows 8 Release Preview (Standard Simplified Chinese x64 edition, not China-specific version, build 8400) was leaked online on various Chinese and BitTorrent websites.[15] On May 31, 2012, the Windows 8 Release Preview was released to the public by Microsoft.[16]
Major items in the Release Preview included the addition of Sports, Travel, and News apps, along with an integrated version of Flash Player in Internet Explorer.[17] Unlike the Developer Preview and the Consumer Preview, the release preview is set to expire on January 16, 2013. But In late 2012, Microsoft released an update that postponed the date and like the Developer Preview and the Consumer Preview, the release preview is now set to expire on January 15, 2013 and expired.
Final version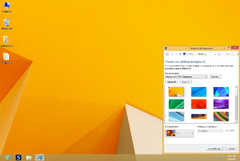 On August 1, 2012, Windows 8 (build 9200[18]) was released to manufacturing.[19] Microsoft plans to release Windows 8 for general availability on October 26, 2012.[20] However, only a day after its release to manufacturing, a copy of the final version of Windows 8 Enterprise N (produced for European markets) leaked to the web and several days later there were Professional and Enterprise leaks both x86 and x64.[21][22] On August 15, 2012, Windows 8 was made available to download for MSDN, TechNet and DreamSpark subscribers.[23] [24] Windows 8 was made available to Software Assurance customers on August 16, 2012.[25] Windows 8 was made available for student downloads (with a DreamSpark Premium subscription) on August 22, 2012, earlier than advertised.[24]
Relatively few changes were made from the Release Preview to the final version. A tutorial explaining how to use the new Metro interface was included and the look and feel of the desktop was subtly changed to be more in line with the Metro interface. Some Microsoft developed apps were also changed slightly.[26]
New features
Metro
Windows 8 employs a new user interface based on Microsoft's Metro design language. The Metro environment features a new tile-based Start screen similar to that of the Windows Phone operating system. Each tile represents an application, and can display relevant information such as the number of unread messages for an e-mail application or the current temperature on a weather application. These applications run in full-screen or in docked modes, and are able to share information between each other using "contracts".[27] They will be available only through Windows Store apps such as Facebook, Twitter, Netflix, iHeartRADIO, Rhapsody, Nick, Halo: Spartan Assault, Skype, Microsoft Solitaire Collection, Discovery Communications, Watch ABC, The New York Times, The Wall Street Journal, Amazon, NOOK, Angry Birds series, Cut the Rope, ESPN huluPLUS, Freshpaint, kindle, Wikipedia, VEVO, USA, TODAY, CNN, eBay, the CW, Ancestry, Zappos.com, FX Networks, Shazam, Crackle, Allrecipes, ABC Family, Wordament, HF: Brain Attack, Disney, CBS, Bank of America, TWC, AccuWeather, Audible, Foursquare, Flashcards Pro, Periodic Table, NBC, WWE, myHomework, 7-Eleven, Inc, StumbleUpon, OpenTable, Dictionary.com, Newegg, Zinio and MLB.TV.[28] Apps in the new interface are developed with the new Windows Runtime platform using various programming languages, including C++, Visual Basic, C#, and HTML with JavaScript code-behind.
The traditional desktop environment for running desktop applications is accessed via a tile on the new Start screen. The Start button has been removed from the taskbar in favor of a Start button on the new charm bar, as well as a hotspot in the bottom-left corner. Both open the new Start screen, which replaces the Start menu.[29]
Applications developed for this new environment were previously referred to as "Metro-style apps" in development materials, connecting it to Windows 8's use of a interface following the Metro design language as its primary desktop. However, reports surfaced that due to potential trademark issues with the German company Metro AG, Microsoft officials had begun to advise its Windows developers to stop using the term. A Microsoft spokesperson however, denied these reports and stated that the use of the term "Metro" to describe these apps was merely a codename that would be phased out.[30] Following these reports, Microsoft started using "Modern UI Style" to refer to its tile-based interface and design language.[31]
PowerShell 3.0
PowerShell is Microsoft's strategic task automation platform and a core component of the overall management framework for Windows. Version 3 has been in beta for some time but the final version is included with Windows 8 (and Windows Server 2012 which has also been released to manufacturing).
Other features
Internet Explorer 10 is included as both desktop program and as a touch-optimized app. The latter does not support plugins or ActiveX components, but includes a version of Adobe Flash Player that is optimized for touch and low power usage and works only on sites included on a

whitelist

.[32]
It is now possible to log into Windows using a

Microsoft account

(formerly known as a Windows Live ID). This will allow the user's profile and settings to be synchronized over the Internet and accessible from other computers running Windows 8, as well as integration with SkyDrive.[33]
Windows Store will be the only method of purchasing and downloading Metro-style apps, as well as advertising desktop apps. Metro-style apps are installed from the Windows Store, or in the form of a Line Of Business app on devices joined in a network domain.[34]
Two new authentication methods have been added: picture password, which allows users to log in by drawing three gestures in different places on a picture,[35][36] and PIN log in, which allows users to authenticate using a four digit

pin

.[37]
File Explorer will include a

ribbon toolbar

, and have its file operation progress dialog updated to provide more detailed statistics, the ability to pause file transfers, and improvements in the ability to manage conflicts when copying files.[38]
Hybrid Boot will use hibernation technology to allow faster startup times by saving the Windows core's memory to the hard disk and reloading it upon boot.[39][40][41]

Windows To Go

will allow Windows 8 Enterprise to boot and run from a bootable USB device (such as a flash drive).[42][43]
Two new recovery functions are included, Refresh and Reset. Refresh restores all Windows files to their original state while keeping settings, files, and apps, while reset takes the computer back to factory default condition.[44]
A new lock screen displays a clock and notifications while the computer is locked.[46]
Task Manager has been redesigned.[47]
Xbox Live integration (including Xbox Live Arcade, Xbox SmartGlass, Xbox Music, and Xbox Video)[48]
Storage Spaces will allow users to combine different sized hard disks into virtual drives and specify mirroring, parity, or no redundancy on a folder-by-folder basis.[49]
Family Safety is intended to allow parents to protect their children on the Internet, as well as monitor and control their PC and Internet activities and usage.[50][51][52]
Windows Defender now has anti-virus capabilities, similar to those of Microsoft Security Essentials. It is intended to replace the Security Essentials package and function as the default anti-virus program.[53]
Removed features
Lots of features have been removed in Windows 8, like the traditional Start menu. Support for playing DVD-Video has been removed from Windows Media Player due to the cost of licensing the necessary decoders and the prevalence of streaming services such as Netflix. For the same reasons, Windows Media Center is not included by default on Windows 8, but Windows Media Center and DVD playback support can be purchased in the "Professional Pack" (which upgrades the system to Windows 8 Professional) or "Media Center Pack" add-on for Windows 8 Professional. As with prior versions, third-party DVD player software can still be used to enable DVD playback.
Hardware requirements
The minimum system requirements for Windows 8 Enterprise edition are slightly higher than those of Windows 7.[54]
Minimum hardware requirements for Windows 8 Enterprise edition
Architecture
IA-32 (32-bit)
x86-64 (64-bit)
Processor
1 GHz (with

PAE

, NX and

SSE2

support)[55]

Memory (RAM)

1 GB
2 GB
Graphics Card

DirectX 9

graphics device with WDDM 1.0 or higher driver
Storage
20 GB
To run Metro-style apps, a screen resolution of 1024x768 or higher is required to run one app at a time, and a minimum resolution of 1366x768 is required to run two apps side-by-side using snap.[56]
Officially supported virtualization platforms for Windows 8 Consumer Preview included Hyper-V in Windows 8 Developer Preview, Hyper-V in Windows Server 2008 R2, VMware Workstation 8.2 for Windows, VirtualBox 4.1.8 for Windows, Parallels Workstation 6 for Windows, Parallels Desktop 4 for Windows, and XenDesktop 5.5.[57]
To receive logo certification, Microsoft requires that a system resume from standby in 2 seconds or less on x86 systems.[58]
Tablets/convertibles
Microsoft released minimum hardware requirements for new tablet and convertible devices designed for Windows 8, and defined a convertible form factor as a standalone device that combines the PC, display and rechargeable power source with a mechanically attached keyboard and pointing device in a single chassis. A convertible can be transformed into a tablet where the attached input devices are hidden or removed leaving the display as the only input mechanism.[59][60]
Hardware certification requirements for Windows tablets[61]
Graphics Card
DirectX 10 graphics device with WDDM 1.2 or higher driver

Storage

10GB free space, after the out-of-box experience completes
Standard buttons
'Power', 'Rotation lock', 'Windows Key', 'Volume-up', 'Volume-down'

Screen

Touch screen

supporting a minimum of 5-point digitizers and resolution of at least 1366x768. The physical dimensions of the display panel must match the aspect ratio of the native resolution. The native resolution of the panel can be greater than 1366 (horizontally) and 768 (vertically). Minimum native color depth is 32-bits.

Camera

Minimum 720p

Ambient light sensor

1–30k lux capable with dynamic range of 5–60K

Accelerometer

3 axes with data rates at or above 50 Hz

USB 2.0

At least one controller and exposed port.
Connect

Wi-Fi

and

Bluetooth 4.0 + LE (low energy)

Other

Speaker

,

microphone

,

magnetometer

and

gyroscope

.

If a mobile broadband device is integrated into a tablet or convertible system, then an assisted GPS radio is required. Devices supporting near field communication need to have visual marks to help users locate and use the proximity technology. The new button combination for Ctrl + Alt + Del is Windows Key + Power.
Secure boot
Secure boot is a controversial[62][63][64][65] UEFI-based feature to "prevent unauthorized firmware, operating systems, or UEFI drivers from running at boot time".[66]
Hardware makers who choose the optional Microsoft Certification will be required to implement UEFI secure boot. Microsoft will also require that manufacturers offer the ability to turn off the secure boot feature on x86 hardware,[67] but they must not offer such an option on ARM hardware. No mandate is made regarding the installation of third-party certificates that would enable running alternative software.[68][69][70]
In September 2011, Matthew Garrett, an employee of competitor Red Hat, raised the possible risk of Microsoft locking out alternative systems,[71] leading to media coverage.[72][73][74][75] Microsoft addressed the issue in a blog post,[76] stating that "At the end of the day, the customer is in control of their PC. Microsoft's philosophy is to provide customers with the best experience first, and allow them to make decisions themselves",[77] with the promise that disabling SecureBoot on Windows 8 devices would be possible.[78][79][80][81] In January 2012, Microsoft released certification requirements for Windows 8 specifying that non-ARM devices must have "the ability to disable Secure Boot", whereas for ARM-based devices, disabling Secure Boot "must not be possible."[64][67][82][83][84] By prohibiting Windows 8 from running on ARM systems that allow the user to disable Secure Boot, Microsoft raised concerns,[85][86][87] particularly in the Linux community, who are concerned that this marks an attempt by Microsoft to exclude competing operating systems from computers built to be compatible with Windows 8.[88][89][90]
Fedora Linux, in order to get around secure boot for their upcoming release, purchased a security key from VeriSign at a discounted price of US$99 through the Windows Dev Center,[91][92][93] causing some controversy in the Fedora community.[94] The Free Software Foundation has commented on the issue,[95][96][97] covering the use of GRUB and both Ubuntu and Fedora's approaches.[98]
Software compatibility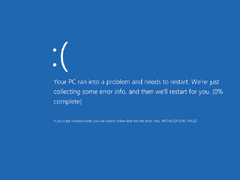 Windows 8 for IA-32 and x64 processors will run most software compatible with previous versions of Windows, with the same restrictions as Windows 7: 64-bit Windows 8 will be able to run 64-bit and 32-bit software while 32-bit Windows 8 will be able to run 32-bit and 16-bit software (although some 16-bit software may require compatibility settings to be applied, or not work at all). Software compatibility for Windows 8 can be checked at the Windows Compatibility Center.
Windows RT, a version of Windows 8 for systems with ARM processors, will only support applications included with the system (such as a special version of Office 2013), supplied through Windows Update, or applications acquired through the Windows Store. Windows on ARM will not support running, emulating, or porting existing x86/64 desktop applications to ensure the quality of apps available on ARM.[99]
Metro-style applications can either be cross-compatible between Windows 8 and Windows RT, or compiled to support a specific architecture.[100]
Upgrade offers
On July 2, 2012, Microsoft announced that once Windows 8 is generally released on October 26,[20] from then till January 31, 2013, there will be two (one costing $69.99, and one costing $39.99) ways to upgrade to Windows 8 Professional from earlier Windows versions.[101] These two methods come on the heels of Microsoft's confirming, in late May 2012,[102][103] that it would offer a $14.99 Windows 8 Professional upgrade to purchasers of new PCs with Windows 7 pre-installed on them.
In none of Microsoft's announcements or confirmations of these promotional prices did it specify what will be the long-term, permanent upgrade pricing for Windows 8 and Windows 8 Professional.
Though Microsoft had earlier announced that Windows Media Center, and native CD/DVD playability, will not be included in Windows 8, this promotion allows users to install Windows Media Center for free once they've completed the upgrade.[104]
The Windows 8 Professional upgrade for Windows 7 users will be easiest and most seamless of the upgrade paths because all user settings, personal files, and apps remain intact. For those upgrading from Windows Vista, only user settings and personal files are preserved, but not apps; and for those upgrading from Windows XP, only personal files (but not user settings or apps) will survive. Apps which do not survive may, however, be reinstalled (assuming user still has all installation files and/or media, and authentication/registration codes/keys and/or serial numbers).[104]
Those who purchase qualifying Windows 7 PCs between June 2, 2012 and January 31, 2013 will be eligible to register and download an upgrade to Windows 8 Professional, via the Windows Upgrade Offer website, for $14.99, through February 28, 2013.[101] A qualified PC is a new PC purchased during the aforementioned June 2 through January 31 promotional period with a valid Windows 7 OEM Certificate of Authenticity and product key for, and preinstalled with, the following editions:[105]
Windows 7 Home Basic
Windows 7 Home Premium
Windows 7 Professional
Windows 7 Ultimate
The Windows 7 Starter and Enterprise editions are ineligible for the US $14.99 upgrade. The upgrade must be performed via registration on the Microsoft Windows Upgrade Offer website. After registration on the site (which must be done from the eligible PC so that its copy of Windows 7 may be validated), registrants will receive a confirmation email. Then, after Windows 8's general release, said customers will receive another email with a promotion code and instructions for purchasing and downloading the Windows 8 Professional upgrade; which promotion code will be redeemed during the upgrade ordering process to receive the promotional $14.99 price.[105]
An optional installation DVD will also be available for an additional fee (likely $15, plus shipping and handling, based on what the downloadable $39.99 upgrades have been told they'll pay for one); or those who download the Windows 8 Professional upgrade will be able to create their own bootable installation media on DVD or USB flash drive from the downloaded Windows 8 Professional upgrade.[105]
The Windows 8 Professional upgrades obtained via these promotional prices will include 90-days of no-charge support from Microsoft which will begin at the moment the Windows 8 is installed and activation is completed.[105]
Logo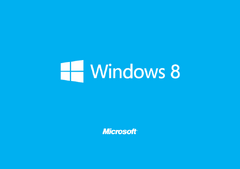 On February 18, 2012, Microsoft confirmed that in Windows 8 the Windows logo will be significantly updated to reflect the new Metro design language. The logo was designed by Pentagram partner Paula Scher. The formerly flag-shaped logo has been transformed into four window panes, perspective was added, and the entire logo will be rendered in a single solid color, which will depend on the user's personalization changes.[106]
Editions
Main article:

Windows 8 editions
On April 16, 2012, Microsoft announced that Windows 8 will be available in four main editions. Windows 8 and Windows 8 Professional will be available for retail sale to consumers in most countries.[107] The other editions are not available in retail. The new Windows RT edition will only be available preinstalled by OEMs on ARM-based devices while the Enterprise edition will only be available through volume licensing.[107]
Four editions are available: Normal, Professional, RT and Enterprise.
End of support
Mainstream support for Windows 8 ended on January 12, 2016. Users are required to upgrade to Windows 8.1 to continue receiving extended support, which will end on January 10, 2023.[108]
References
See also
External links