Windows 11

(codenamed Sun Valley) is a personal computer operating system developed by Microsoft as part of the Windows NT family of operating systems to succeed Windows 10.[2] It was formally announced at 11 a.m. Eastern Time on June 24, 2021.[3] Windows 11 became available as a free upgrade to eligible customers on October 5, 2021.[1]
Development
The UI of the project is codenamed "Sun Valley" and is based on the 21H2 Cobalt development cycle, done in the private, separate co-refresh branch. [4] Online support documents that were published (and withdrawn) in early June 2021 indicated that internal testing of "Windows Sun Valley" was underway at Microsoft.[5] On June 10, Microsoft teased the upcoming release of Windows 11 with a "slo-fi" video that runs exactly 11 minutes long.[6][7]
Leak of developer build
A 4GB ISO of the Windows 11 installer for build 21996.1, compiled on May 29, 2021 according to the build number was leaked on June 15, 2021[8] , after some screenshots were leaked on Chinese website Baidu on the same date. Configuration files included with the installer indicated that it could have been made freely available to owners of genuine licenses of Windows 7 and later.[9] The build also includes an ARM binary that allows it to be installed on smartphones that supported Windows 10 Mobile, but the feature set was otherwise incomplete.[10][11]
Official preview releases
A Windows Preinstallation Environment build 22000.41 of Windows 11 was released on June 24, 2021 for selected members of the Windows Insider Program.[12] The official preview build 22000.51 became publicly available on June 28.[11] Updated previews of Office began being released to Insiders on July 7, 2021 with a new UI designed to match Windows 11.[13] Starting on September 2, 2021, the Windows Insider channels began receiving different builds, as the beta channel was focused on the 21H2 Cobalt release for October 2021, while the dev channel was focused on the following 22H1 Nickel release for the first half of 2022.[14] The Windows Subsystem for Android, which allows Android apps to run in Windows 11, became available for testing through the Windows Insider Program on October 20, 2021.[15]
General availability
Microsoft announced on August 31, 2021 that Windows 11 would first become available as a free upgrade for customers with new eligible devices on October 5, 2021, though Android support was not ready in time for the first release. A phased rollout would make it available to all other eligible devices in the market by mid-2022.[1][16]
In May 2022, physically packaged versions of Windows 11 began appearing at retailers for the first time. The retail boxes were available in Home and Pro editions. The installation software was contained on a USB flash drive.[17]
Upgrade eligibility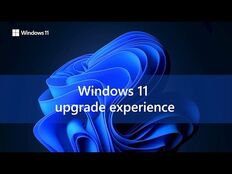 Windows 11 became available for free through Windows Update to Windows 10 users that met the minimum system requirements. Users of Windows 7 to 8.1 need to update to 10 first to qualify for the free upgrade.[18] Microsoft confirmed that Windows 11 would be available "this holiday", though tech websites observed dates ranging from October 6 to 20 in sample screenshots provided by Microsoft.[19] Unlike early releases of Windows 10, there is no 32-bit version of Windows 11. An Intel Coffee Lake, AMD Zen 2, or later generation processor is required to support new security requirements.[20] Users who choose to upgrade to Windows 11 are provided a 10-day period to decide whether to roll back to Windows 10 through Windows Update > Advanced Options > Recovery. After this period has passed, users are on their own to back up their computer and perform a clean install of Windows 10.[21]
Minimum system requirements
1 GHz or faster 64-bit processor or SoC with at least 2 cores
4 GB or more RAM
64 GB or larger internal drive
UEFI firmware that supports Secure Boot, TPM 2.0[22]
720p or larger display
Internet access with a Microsoft account for activation
New features
Windows 11 will support Android apps through the Amazon Appstore.[23] It also salvages some features from the cancelled Windows 10X project. The revised user interface reintroduces rounded window corners last seen in Windows 7 and a new startup sound. The updated Start Menu omits Live Tiles and is centered by default, though it can be set back to the bottom left corner of the screen. News and Interests, is now called widgets and is displayed as an icon rather than showing weather information.[24]
Windows 11 adds support for DirectStorage and auto HDR, which were first introduced in the Xbox Series X/S. DirectStorage is an API designed to take advantage of NVMe solid-state drives to improve application and game loading times. Auto HDR will automatically improve the displayed dynamic range of older SDR games on supported monitors.[25]
The updated Microsoft online store allows developers to implement their own payment systems and supports distribution of Android apps. Microsoft stated that they will take no cut of revenue from apps that implement their own payment system.[23][26] This special deal does not extend to games, which will be subject to a 12% fee through Microsoft's payment platform.[27]
Deprecated apps
The following Windows apps are no longer included with new clean installs, though existing installations on upgraded computers will remain in place:
Default web browser
Windows 11 includes Microsoft Edge based on the newer Chromium browser engine, which Microsoft recommends for improved privacy and security.[28] For legacy websites that can only function with the older Internet Explorer browser, Edge users can enable "Internet Explorer mode" (IE mode) to switch from Chromium to the legacy MSHTML engine to handle such circumstances.[29] Microsoft stated that this feature would be supported in Edge until at least 2029.[30]
Unlike Windows 10, Windows 11 does not include support for Internet Explorer 11 by default. A procedure was found to re-enable it, though it was acknowledged that Explorer is no longer suitable for present-day use due to lack of security and inability to support modern cloud services like Microsoft 365 and Teams.[31][32]
Future updates
Nickel: Tentatively referred to as Sun Valley 2, developer builds have entered beta testing.[33] Nickel was originally planned to be part of the 22H1 release in the first half of 2022, but was reportedly pushed back to 22H2 later in the year as Microsoft is moving from a biannual to an annual release cycle for feature updates.[34]
Videos
Gallery
References
↑ 1.0 1.1 1.2 Windows 11 available on October 5 by Aaron Woodman, Microsoft. 2021-08-31.
↑ Windows 11 with new UX confirmed in a leak, ahead of Microsoft's June 24 announcement by Zac Bowden and Daniel Rubino, Windows Central. 2021-06-15.
↑ Microsoft to unveil new version of Windows on June 24, by Jordan Novet, CNBC. 2021-06-02.
↑ Microsoft plans big Windows 10 UI refresh in 2021 codenamed 'Sun Valley' by Zac Bowden, Windows Central. 2020-10-28.
↑ Microsoft accidentally confirms Windows Sun Valley update by Mayank Parmar, Windows Latest. 2021-06-09.
↑ Microsoft teases Windows 11 with startup sound slo-fi remix by Sean Endicott, Windows Central. 2021-06-10.
↑ Windows Startup Sounds - Slo-fi Remix by Windows on YouTube. Uploaded June 10, 2021.
↑ Windows 11 hands on: First look at the leaked OS by Mark Hachman, PCWorld. 2021-06-15.
↑ Windows 11 could be a free upgrade for Windows 7 by Mayank Parmar, Windows Latest. 2021-06-17.
↑ Of course Windows 11 has been ported to the Lumia 950 XL smartphone by Brad Linder, Liliputing. 2021-06-17.
↑ 11.0 11.1 Microsoft releases Windows 11 preview, available to download now by Tom Warren, The Verge. 2021-06-28.
↑ Preparing for Insider Preview Builds of Windows 11 by Amanda Langowski and Brandon LeBlanc, Microsoft. 2021-06-24.
↑ Microsoft's new Office UI now available for testers by Tom Warren, The Verge. 2021-07-07.
↑ Announcing Windows 11 Insider Preview Build 22449 by Amanda Langowski and Brandon LeBlanc, Microsoft. 2021-09-02.
↑ Introducing Android Apps on Windows 11 to Windows Insiders by Aidan Marcuss and Giorgio Sardo, Microsoft. 2021-10-20.
↑ Windows 11 release: Android apps won't be available today by Katie Teague, CNET. 2021-10-05.
↑ Windows 11 now comes in physical retail boxes too by Usama Jawad, Neowin. 2022-05-09.
↑ Windows 11 is a free upgrade by Tom Warren, The Verge. 2021-06-24.
↑ Microsoft keeps hinting at an October release for Windows 11 by Tom Warren, The Verge. 2021-06-28.
↑ Windows 11 will leave millions of PCs behind, and Microsoft is struggling to explain why by Tom Warren, The Verge. 2021-06-29.
↑ Why you should be wary of the Windows 11 10-day rollback countdown by Mary King, CNET. 2021-07-09.
↑ What is a TPM? And here's why you need it for Windows 11 by Imad Khan, Tom's Guide. 2021-06-27.
↑ 23.0 23.1 Microsoft is bringing Android apps to Windows 11 by Tom Warren, The Verge. 2021-06-24.
↑ Windows 11 leak reveals new UI, Start menu, and more by Tom Warren, The Verge. 2021-06-15.
↑ Microsoft launches Windows 11: Here's all you need to know by Neeraj Bhateja, TechieTechTech. 2021-06-25.
↑ Live Blog: Microsoft's Windows 11 event by Tom Warren, Monica Chin, and Dieter Bohn, The Verge. 2021-06-24.
↑ Microsoft reveals the new Microsoft Store for Windows 11, and it has Android apps, too by Sean Hollister, The Verge. 2021-06-24.
↑ Make the switch from Internet Explorer to Microsoft Edge, Microsoft Support. Accessed 2022-03-12.
↑ What is Internet Explorer (IE) mode?, Microsoft Docs. 2022-03-02.
↑ Lifecycle FAQ - Internet Explorer and Microsoft Edge, Microsoft Docs. 2016-07-18. Updated 2021-11-03.
↑ Internet Explorer on Windows 11 by aqua95, YouTube. 2022-02-22.
↑ Microsoft 365 apps say farewell to Internet Explorer 11 and Windows 10 sunsets Microsoft Edge Legacy, Microsoft 365 Blog. 2021-02-08.
↑ Windows 11 22H2 Update 'Sun Valley 2': everything we know so far by Daryl Baxter, TechRadar. 2022-01-11.
↑ 34.0 34.1 Windows 11 22H2 is almost cooked suggests a leaked internal script for Insiders by Sayan Sen, NeoWin. 2022-01-24.
↑ Windows 10 22H2 codenamed Copper, no 22H1 update? reveals updated official document by Nayan, WinCentral. 2021-05-28.
External links
Articles