Jurassic World: Dominion Dominates Fandom Wikis - The Loop
Play Sound
Windows 10 (codenamed Threshold) is a personal computer operating system developed by Microsoft as part of the Windows NT family of operating systems. Officially unveiled in September 2014 following a brief demo at Build 2014, the operating system reached general availability beginning on July 29, 2015. It is a successor to Windows 8.1. Instead of releasing an entirely new and different version of its desktop OS every few years, Microsoft took an Apple-like approach to subsequent Windows releases, standardizing on Windows 10 as its Cupertino-based rival has done with macOS.[1] Microsoft announced its successor, Windows 11, on June 24, 2021.[2][3]
History
Before Windows 8.1 was released, there were many reports that claimed the existence of "Windows Threshold", a supposed OS that would be the successor to Windows 8. Nine months later on July 21, 2013, build 9795 was leaked. Screenshots showed the new Start Menu, almost the same as the one shown at Build 2013. Microsoft China also confirmed Windows 10 on September 2, 2013 on Weibo. Additionally, Build 9834 was leaked by sites WinFuture and ComputerBase. It will also include multiple desktops, to improve multitasking. Before Microsoft officially announced it, news reports referred to the operating system by several names, most notably Windows 9. Along with the announcement of Windows 10, Microsoft introduced the Windows Insider Program. The program is designed to allow people see the future of Windows and give feedback, introducing a public element to the development process. To aid in the receiving if feedback, Microsoft included a Windows Feedback app into the released builds of Windows 10. Build 9860 introduced a speed to receiving updates, along with an explanation as to how the Windows Insiders (as they've been called by Microsoft) get the builds. Since its unveiling in September 2014, Microsoft has pushed 15 builds officially through the Windows Insider Program: Build 9841, Build 9860, Build 9879, Build 9926, Build 10041, Build 10049, Build 10061, Build 10074, Build 10122, Build 10130, Build 10158, Build 10159, Build 10162, Build 10166 and Build 10240 (RTM). Additional builds, like Build 10051, were leaked and acknowledged by Microsoft, but were not officially released by Microsoft.
Features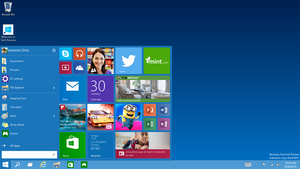 Microsoft has replaced the Start Menu screen with an updated "Start Menu" box similar to the one from Windows 7. The left side of the Start Menu resembles the left side of the XP style Start Menu, while the right side is a reduced version of the Windows 8 Start Menu. Windows 10 will include Virtual Desktops and a Notification Center, and has the ability to run apps in desktop windows. Leaked builds show an integration of Cortana, the personal assistant introduced in Windows Phone 8.1. Files for Cortana can also be found within current Windows 10 Builds. Animations have been improved for opening, maximizing, minimizing, and restoring down windows, as well as switching between virtual desktops. Current builds released to the public also suggest a new means of updating the operating system, as each build has been updated through a function within Windows Update rather than through clean installs. A feature showed off at the announcement presentation in September, named Continuum, shows the ability for the Start Menu to switch between the traditional Start Menu and a new version of the Start Screen from Windows 8. Build 9901, which was leaked in December 2014, showed off a more complete user interface, introducing an opaque taskbar and cleaner app windows, as well as a cleaner search bar in the taskbar where Cortana can be accessed. The build also features entirely new apps for the Calculator, Alarms, Photos, and Windows Store, which appear more desktop friendly. Control Panel also has begun to be deprecated, and PC Settings has been renamed "Settings." In addition, Settings has been removed from the Charms. On January 21, 2015, Microsoft held an event on the future of Windows 10. A new build was shown off, which shows off a more unified and complete user interface. Cortana is now integrated and functioning properly within Windows. A cleaner Start Menu, coded using XAML, was also presented, along with the ability to switch between the standard and full-screen modes of the Start Menu. Windows 10 was also unveiled for the first time on mobile phones. With this announcement came the presentation of a new Action Center with interactive notifications for both desktop and phones. New universal apps for both systems were unveiled, including new apps for Photos, Outlook Mail, People and Calendar. The rumored "Project: Spartan", a new browser that could potentially replace Internet Explorer, was unveiled and shown off, with integrated Cortana, a new annotation mode that works with Microsoft OneNote and a new Reading List. In addition, Windows 10 was announced to power gaming within the operating system through XBOX, along with a new Game DVR to record games, and a new streaming feature to stream and play XBOX games through the XBOX One console onto any device running Windows 10. Two additional hardware devices were unveiled that would run Windows 10: the Surface Hub and the Microsoft HoloLens. The build shown off at throughout most of the event was Build 9924, though the next build is reported to be Build 9926,[4] and not all the features shown off at the event would be immediately available. The build would be available through the Windows Insider Program in the week following the event, while the first build for Windows 10 on mobile phones would be made available in early February ("After the Seahawks win the Super Bowl"). Microsoft also announced that Windows 10 would be a free upgrade for all computers and devices running Windows 8.1, Windows Phone 8.1, and Windows 7 during the first year after the launch of Windows 10.
Upgrade path

Microsoft made Windows 10 available as free upgrade for qualified Windows 7, Windows 8.1, and Windows Phone 8.1 devices. It became available on July 29, 2015 and remained a free upgrade for one year. You can still technically upgrade to Windows 10 for free, but it requires using the Media Creation Tool to upgrade your PC to Windows 10. When upgrading, you'll stay on like-to-like editions of Windows. For example, Windows 7 Professional will upgrade to Windows 10 Home.
Windows Version & Edition
Eligible Windows 10 Upgrade Edition
Windows 1.0


Windows 2.0
Windows 2.1x
Windows 3.0
Windows 3.1x
Windows NT 3.1
Windows NT 3.5
Windows NT 3.51
Windows NT 4.0
Windows 95
Windows 98
Windows 2000
Windows ME
Windows XP Starter
Windows XP Home
Windows XP Professional
Windows Vista Starter
Windows Vista Home Basic
Windows Vista Home Premium
Windows Vista Business
Windows Vista Enterprise
Windows Vista Ultimate
Windows 7 Enterprise
Windows Phone 7
Windows 8 (Core)
Windows 8 Pro
Windows 8 Enterprise
Windows RT
Windows RT 8.1
Windows Phone 8


Ineligible

Windows 7 Starter
Windows 7 Home Basic
Windows 7 Home Premium
Windows 8.1 (Core)
Windows 8.1 with Bing


Windows 10 Home

Windows 7 Professional
Windows 7 Ultimate
Windows 8.1 Pro
Windows 8.1 Pro for Students


Windows 10 Pro
Windows Phone 8.1
Windows 10 Mobile
Windows 10 is serviced in a significantly different manner from previous releases of Windows. Is delivery is often described by Microsoft as a "service", due to its ongoing updates, with Terry Myerson explaining that Microsoft's aim is that "the question of 'what version of Windows are you running' will cease to make sense."
Unlike previous versions of Windows, Windows Update does not allow the selective installation of updates; instead, all updates (including patches, feature updates, and driver software) are downloaded automatically. Users can only choose whether the system will reboot automatically to install updates while the system is inactive , or be notified to schedule a reboot. Windows Update also uses a peer to peer system for distributing updates; by default, users' bandwidth is used to distribute previously downloaded updates to other users, in combination with Microsoft servers. Users can instead choose to only use peer-to-peer updates within their local area network.
Upgraded builds
Windows 10 versions
Every version of Windows 10 has a version number. The version number comes out when an update is released and it ends when it's no longer maintained.
Version 1507 (RTM) - July 29, 2015
Version 1511 (November Update) - November 10, 2015
Version 1607 (Anniversary Update) - August 2, 2016
Version 1703 (Creators Update) - April 5, 2017
Version 1709 (Fall Creators Update) - October 17, 2017
Version 1803 (April 2018 Update) - April 30, 2018
Version 1809 (October 2018 Update) - October 2, 2018
Version 1903 (May 2019 Update) - May 21, 2019
Version 1909 (November 2019 Update) - November 12, 2019
Version 2004 (May 2020 Update) - May 27, 2020
Version 20H2 (October 2020 Update) - October 20, 2020
Version 21H1 (May 2021 Update) - May 18, 2021
Version 21H2 (November 2021 Update) - November 16, 2021
Tweaks/Tricks
Enable Balloon Tips: Windows 10 comes with a new feature - it shows all app and system notifications as toasts. Gone are the balloon notifications which were there since Windows 2000. Instead, you will see a toast notification in Windows 8 style, which, probably, will work along with the new Notification Center in Windows 10. However, if you like balloon notifications and are mad with toasts, you can restore balloon notifications back in Windows 10.
Use Classic Battery Flyout Power Indicator: When you click/tap on the Power icon in the taskbar notification area, you will see the battery level indicator. Gone is the old classic flyout power indicator, which was here since Windows Vista. Instead, you will see a pop-up in Windows 8.x style. However, if you like balloon notifications and are mad with the modern battery flyout, you can use the old style battery flyout instead of the modern version, click this link.
Note: You must be signed in as an administrator to be able to switch to the old battery indicator.
Use Classic UAC Prompt Instead of Modern Prompt: After installing the version 1607 Anniversary update, when running an EXE, Microsoft has updated the appearance of the UAC prompt. The refined dialog looks more like a dialog from a Universal (Metro) app and fits the overall flat appearance of the operating system. Open Registry Editor, Go to the following key: HKEY_LOCAL_MACHINE\SOFTWARE\Microsoft\Windows\CurrentVersion\Authentication\LogonUI\TestHooks, change the XamlCredUIAvailable value, then set its value data to 0. After set to 0, run an EXE as an administrator, and now you can see the old Windows Vista-like UAC Prompt.
Disable UAC: Before version 1703, disabling User Account Control can cause metro apps to terminate or cause errors, except older apps. This is how they did it. That's changed in later version numbers. If you're running version 1703 or later version numbers, you can disable User Account Control safe and metro apps will work great, including older apps.
Classic MSCONFIG & Task Manager: In Windows 8.x, a new modern Task Manager & MSCONFIG app are both introduced. Windows 10 comes with the same ones, but your favorite options from MSCONFIG were removed and moved into the modern Task Manager. You can get the vintage task manager and System Configuration from earlier versions back by clicking one of the links for your PC:
Get Classic Start Menu Back in Windows 10: When you're using Windows 8.x, when clicking the start button, you'll see a start screen with pinned apps in metro style. Windows 10 comes with the same metro start screen, but on your desktop. If you don't like the metro start menu or start screen, install and run StartIsBack get the classic menu back: StartIsBack++. The loader Activator link for your real start menu is still available. If you want to transform into Windows XP, you can use this link.
Disable Blur on Sign-in screen: In Windows 10 version 1903 or later version numbers, the blur-effect is applied to the sign-in or lock screen. You can turn this feature off in the Personalization app by unchecking transparancy effects.
Calendar & Date Pane: In stable builds of Windows 10 like Version 1511 (RTM) and Version 1511 (November Update), when you click the clock in the notification area/tray area of the taskbar which is usually in the bottom right corner, a new Calendar and Date-Time pane will appear on the screen. This change was made by Microsoft to adapt the old calendar function to new devices with touch screens. If you are not interested and would like to revert it to the Windows Vista-like calendar popup, you will be surprised to know that it is still possible. Here is how to change it back.
Old Volume Control: Windows 10 provides no way to restore the Windows Classic scheme, Windows Media Center, or other much-loved features. But, for some reason, there is a hidden registry setting that will re-enable Windows Vista's old volume control interface on Windows 10. The new volume control has a cool new feature for easily switching audio playback devices, and you'll be giving that up. But, if you want to make Windows 10 look more like Windows Vista (for some reason), the below registry hack will do it.
Take Ownership: In Windows 8.x and Windows 10, it's no longer possible to replace things in a wim. A user that has ownership of a file or folder has implicit rights to change permissions on that object. That user is also always allowed to access the file or folder—even when other permissions seemingly contradict that access. Sometimes, you might run into a situation where you need to take over the ownership of a file or folder. It might be a system file you need to alter to apply some hack—like replacing Notepad with another text editor—in which case, a built-in user account named Trusted Installer has the ownership by default. Or you might have a hard drive from another computer that you need to control files on. You can still disable TrustedInstaller with a Windows Vista or a Windows 7 installation CD while modifying its wim files. Click the link to download the tricks.
Microsoft Games: Windows Vista had a set of nice, beautiful games including the classic card games with new shiny graphics and some great new games from Vista like Chess Titans, Mahjong Titans and Purble Place. For some reason, Microsoft decided to discontinue these games and offer bloated Modern games from the Store instead. For fans of the original Windows Vista games, here is a simple tutorial to revive them on Windows 8.x and 10.
Windows Sidebar: Many people including old grandparents still love the old desktop gadgets that were introduced in Windows Vista. They were removed completely in Windows 8.x and Windows 10 which made many people heartbroken. Microsoft wants to push live tiles as their replacement and therefore they claim Gadgets as insecure, just like they push Store apps over Desktop apps. If you can't remember the Desktop without your favorite gadgets, here is how to get them back again in Windows 8.x and 10. Click the link to get your gadgets back in Windows 8.x and Windows 10!
Taskbar Tweaker: In Windows 7 or later, hovering over the taskbar buttons show a preview of the open task. Gone are the tooltips when hovering a taskbar button, which was here since Windows 95. Click the following link to get the Taskbar Tweaker for Windows 7, 8.x and 10
Features removed in version 1507 (RTM)
Windows shell
The charms are removed, and replaced with the Action Center. In Windows Runtime apps, a menu button appears on the title bar that can be used to access the functions that previously required its usage.
Users are no longer able to synchronize Start menu layouts across all devices associated with a Microsoft account. A Microsoft developer justified the change by explaining that a user may have different applications they want to emphasize on each device that they use, rather than use the same configuration across each device. The ability to automatically install a Windows app across all devices associated with an account was also removed.
System components
User control over Windows Updates is removed (except in enterprise versions). In earlier versions, users could opt for updates to be installed automatically, or to be notified so they could update as and when they wished, or not to be notified; and they could choose which updates to install, using information about the updates. Windows 10 Pro and Enterprise users may be configured by an administrator to defer updates, but only for a limited time. Under the Windows end-user license agreement, users consent to the automatic installation of all updates, features and drivers provided by the service, and implicitly consent "without any additional notice" to the possibility of features being modified or removed. The agreement also states, specifically for users of Windows 10 in Canada, that they may pause updates by disconnecting their device from the Internet.
Drivers for external (USB) floppy drives are no longer integrated and must be downloaded separately.
While all Windows 10 editions include fonts that provide broad language support, some fonts for Asian languages (Arabic, Chinese, Hindi, Japanese, Korean, etc.) are no longer included with the standard installation "to reduce the amount of disk space that Windows requires", but are available without charge as optional font packages. When software invokes text in languages other than those for which the system is configured and does not use the Windows font fallback mechanisms designed always to display legible glyphs, Windows displays unsupported characters as a default "not defined" glyph, a square or rectangular box, or a box with a dot, question mark or "x" inside.
Media features
Windows Media Center is discontinued, and is uninstalled when upgrading from a previous version of Windows. Upgraded Windows installations with Media Center will receive the paid app Windows DVD Player free of charge for a limited, but unspecified, time. Microsoft had previously relegated Media Center and integrated DVD playback support to a paid add-on beginning on Windows 8 due to the cost of licensing the required DVD playback related patents, and the increasing number of PC devices that have no optical drives.
Internet and networking
Web browsers can no longer set themselves as a user's default without further intervention; changing the default web browser must be performed manually by the user from the "Default apps" page in Settings app, ostensibly to prevent browser hijacking.
Parental controls no longer support browsers other than Internet Explorer and Edge, and the ability to control browsing by a whitelist was removed. Also removed was the ability to control local accounts, and the ability to scan a machine for applications to allow and block.
Bundled software
The Food & Drink, Health & Fitness, and Travel apps have been discontinued.
Starting with Windows 10, Microsoft does not offer WinHelp viewer for this (or higher) version. The last version of Windows on which it was possible to open WinHelp files, using a downloadable component, is Windows 8.1.
Features restored in later versions
Windows Defender could be integrated into File Explorer's context menu in Windows 8.x, but Microsoft initially removed integration from Windows 10, restoring it in Windows 10 build 10571 in response to user feedback.
The OneDrive built-in sync client, which was introduced in Windows 8.1, no longer supports offline placeholders for online-only files in Windows 10. This functionality was re-added in Windows 10 version 1709, under the name "Files On-Demand".
Features removed in version 1607
Cortana can now operate in a feature-limited mode with basic web and device search functionality, if users have not opted into data collection and personalization. On previous versions, a generic "Search" experience without Cortana branding was shown if the user had not granted permission to activate Cortana.
In April 2016, Microsoft announced that it will no longer allow Cortana web searches to be executed through any other web browser and search engine combination but Microsoft Edge and Bing, intentionally disregarding user settings. Microsoft alleges that other web browsers and search engines results in a "compromised experience that is less reliable and predictable", and that only Microsoft Edge supports direct integration with Cortana within the browser itself.
The ability to change the Exit Windows, Windows Logoff and Windows Login sounds was hidden in Version 1607, although these features can be enabled by going to the Windows Registry and under the EventLabels folder and setting the value to 0.

Certain features related to embedded advertising in the operating system can no longer be disabled on non-Enterprise or Education versions of Windows 10 using management settings such as Group Policy, including disabling Microsoft Store and Universal Windows Platform apps, "Microsoft consumer experiences" (which pushes tiles to the Start menu advertising promoted Microsoft Store apps, typically following a new installation of Windows 10), Windows Tips, turning off the lock screen (which can optionally display ads as part of "Spotlight" tips), or enforcing a specific lock screen background. Critics argued that this change was meant to discourage Windows 10 Pro from being used in business environments, since Microsoft was reducing the amount of control administrators have over their devices' environments without using an enterprise version of Windows 10.

The ability to share Wi-Fi credentials with other contacts via Wi-Fi Sense was removed; Wi-Fi passwords can still be synced between devices tied to the same Microsoft account.
Features removed in version 1703
Windows 10 is no longer supported on devices containing an Intel Atom "Clover Trail" system-on-chip. Affected devices may not be upgraded to 1703 or any future feature updates of Windows 10. Microsoft will continue to provide security patches for version 1607 (the build has a long-term support version for enterprise markets) on these devices through January 2023.
Windows Update will no longer postpone the download of certain critical updates if the device is connected to a network that was designated by the user as being "metered". Although meant to prevent the updates from utilizing data allotments, this behavior had been used as a workaround by users to avoid the requirement for all updates to be automatically downloaded.
The Interactive Service Detection service, introduced in Windows Vista to combat shatter attacks, is removed in 1703.
Features removed in version 1709
The Syskey utility is removed, citing insecure cryptography and increasing use as ransomware in tech support scams.
Server Message Block version 1 (SMB1) is disabled by default on version 1709. The Home and Pro editions only disable the SMB1 server but retain the SMB1 client, so they can connect to SMB1 network shares. The Enterprise and Education editions disable the SMB1 entirely. This version of the 30-year-old protocol gained notoriety in the WannaCry ransomware attack, although Microsoft had been discouraging its use even before.
3D Builder is no longer installed by default. However, it can still be downloaded from Microsoft Store.
Features removed in version 1803
The Games Explorer, first seen in Windows Vista, has been removed, and running the command "shell:games" will prompt an error.
Language options in the Control Panel have been moved to the Settings app.
By default, Windows 10 no longer automatically backs up the Registry in the RegBack folder. Microsoft recommends using System Restore instead.
HomeGroup, a home network file sharing feature first introduced in Windows 7, is removed.
XPS Viewer is no longer installed by default on new installations.
The Phone Companion app is deprecated, with its functionality moved to the Settings app.
Features removed in version 1809
Windows 10 setup makes it impossible to create a local user account not linked to a Microsoft account if the PC is able to connect to the internet during the setup process.
The Hologram app has been replaced by the Mixed Reality Viewer.
Features removed in version 1903
The sync feature of the desktop version of the Messaging app has been removed.
Features removed in version 1909
Roaming of Taskbar settings is removed.
The Peer Name Resolution Protocol (PNRP) cloud service was removed in Windows 10, version 1809. It's been planned to complete the removal process by removing the corresponding APIs.
Features removed in version 2004
Certain capabilities of Cortana have been removed, such as music and connected home.
Windows To Go is removed.
The Mobile Plans and Messaging apps are removed for non-cellular devices and are not installed by default.
Deprecated features
Microsoft has published a list of Windows features that are no longer actively developed. Microsoft states that these features may potentially be removed in future updates to Windows 10.
My People in the shell no longer developed.
Hyper-V vSwitch on LBFO (to be bound via Switch Embedded Teaming)
ReFS (volumes can only be created on Windows 10 Pro for Workstations and Enterprise)
Snipping Tool (replaced by Store app Snip & Sketch)
Language Community tab in Feedback Hub
Software Restriction Policies (replaced primarily by AppLocker and Windows Defender Application Control)
Windows Hello Companion Device Framework API for external devices to unlock Windows logon when biometrics are unavailable
Legacy Microsoft Edge (will be removed from Windows 10 PCs with the April 2021 Patch Tuesday update)
Dynamic Disks (will be replaced by Storage Spaces in a future update)
Hardware requirements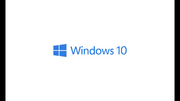 The basic hardware requirements to install the Windows 10 Insider Preview are the same as Windows 8.1, however some older 64-bit CPUs may not be supported as well as some 32 GB and all 16 GB devices with a compressed system image.
Basic Requirements
Latest OS - Make sure you are running Windows 7 SP1 or Windows 8.1 Update
Processor: 1 gigahertz (GHz) or faster processor or SoC
RAM: 1 gigabyte (GB) for 32-bit or 2 GB for 64-bit
Hard disk space: 16 GB for 32-bit OS or 20 GB for 64-bit OS
Graphics card: DirectX 9 or later with WDDM 1.0 driver
Display: 800x600
Important notes
The upgradeability of a device has factors beyond the system specification. This includes driver and firmware support, application compatibility, and feature support, regardless of whether or not the device meets the minimum system specification for Windows 10.
If your PC or tablet is currently running Windows 7 SP1 or Windows 8.1 Update, you can check to see if it meets the requirements by using 'Check my PC' in the Get Windows 10 app.
Applications, files and settings will migrate as part of the upgrade, however some applications or settings may not migrate.

For Anti-virus and Anti-malware applications, during upgrade Windows will check to see if your Anti-virus or Anti-malware subscription is current. Windows will uninstall your application while preserving your settings. After upgrade is complete, Windows will install the latest version available with the settings that were set prior to upgrade. If your subscription is not current, upgrade will enable Windows defender.
Some applications that came from your OEM may be removed prior to upgrade.
For certain third party applications, the "Get Windows 10" app will scan for application compatibility. If there is a known issue that will prevent the upgrade, you will be notified of the list of applications with known issues. You can choose to accept and the applications will be removed from the system prior to upgrade. Please copy the list before you accept the removal of the application.
Additional requirements
Speech recognition will vary by device microphone. For better speech experience you will need a:

High fidelity microphone array
Hardware driver with Microphone array geometry exposed

Windows Hello requires specialized illuminated infrared camera for facial recognition or iris detection or a finger print reader which supports the Window Biometric Framework.
Continuum is available on all Windows 10 editions by manually turning "tablet mode" on and off through the Action Center. Tablets and 2-in-1's with GPIO indicators or those that have a laptop and slate indicator will be able to be configured to enter "tablet mode" automatically.
Music and Video stream through the Xbox Music or Xbox video app available in certain regions. For the most up to date list of regions, please go to Xbox on Windows website.
Two factor authentication requires the use of a PIN, Biometric (finger print reader or illuminated infrared camera), or a phone with Wi-Fi or Bluetooth capabilities.
The number of applications that can be snapped will depend upon the minimum resolution for the application.
To use touch, you need a tablet or a monitor that supports multi-touch. (more info)
Microsoft account required for some features.
Internet access (ISP) fees might apply.
Secure boot requires firmware that supports UEFI v2.3.1 Errata B and has the Microsoft Windows Certification Authority in the UEFI signature database.
Some IT administrators may enable Secure Logon (Ctrl + Alt + Del) before bringing you to the log in screen. On tablets without a keyboard, a tablet with the Windows button maybe required as the key combination on a tablet is Windows button + Power button.
Some games and programs might require a graphics card compatible with DirectX 10 or higher for optimal performance.
BitLocker To Go requires a USB flash drive (Windows 10 Pro only).
BitLocker requires either Trusted Platform Module (TPM) 1.2, TPM 2.0 or a USB flash drive (Windows 10 Pro and Windows 10 Enterprise only).
Client Hyper-V requires a 64-bit system with second level address translation (SLAT) capabilities and additional 2 GB of RAM (Windows 10 Pro and Windows 10 Enterprise only).
Miracast requires a display adapter which supports Windows Display Driver Model (WDDM) 1.3, and a Wi-Fi adapter that supports Wi-Fi Direct.
Wi-Fi Direct Printing requires a Wi-Fi adapter that supports Wi-Fi Direct and a device that supports Wi-Fi Direct Printing.
To install a 64-bit OS on a 64-bit PC, your processor needs to support CMPXCHG16b, PrefetchW, and LAHF/SAHF.
InstantGo works only with computers designed for Connected Standby.
Device encryption requires a PC with InstantGo and TPM 2.0.
References
External links