Windows 1.0 is the first desktop environment developed and made by Microsoft. It is built on top of MS-DOS. Unlike its successor, Windows 2.0, Windows 1.0 did not allow windows to overlap each other. The device has 256 KB of memory storage.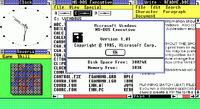 Microsoft Windows 1.0x
History
Version Release Dates:
Windows 1.00: November 6, 1985 (beta release, recalled)
Windows 1.01: November 20, 1985 (official release)
Windows 1.02: May 1986
Windows 1.03: August 1986
Windows 1.04: April 1987
Succeeded by Windows 2.0 In December 9, 1987,
Support for this version of Windows ended on December 31, 2001. It is the longest supported version of Windows ever, supported for 16 years.
Features
Windows 1.x System requirements:
DOS: MS-DOS 2.0
RAM: 256 KB or more,
Disk Drive(s): 2 double-sided disk drives or hard drive.
Windows 1.0 included programs:
Gallery of Windows 1.0x Screenshots
External links