Jurassic World: Dominion Dominates Fandom Wikis - The Loop
Play Sound
Windows 1.0 is a graphical operating environment designed for personal computers, developed by Microsoft. Released on November 6, 1985, Windows 1.0 is the first version of the Microsoft Windows line of user interface environments and operating systems. It runs as a graphical, 16-bit multi-tasking shell on top of an existing MS-DOS installation, allowing for the usage of both existing MS-DOS software and graphical programs designed for Windows.
Critics reviewed Windows 1.0 poorly, feeling that it did not meet their expectations; in particular, they raised concerns about the lack of resources for new users as well as performance issues, especially on systems with lower hardware specifications. In spite of these criticisms, there were positive responses to early presentations and support from a number of hardware and software makers.
On December 31, 2001, Microsoft declared Windows 1.0 obsolete and stopped providing support and updates for it.
History
Released versions: Windows 1.00 to 1.04
Windows version 1.01, released on November 6, 1985, was the first public release of Windows. The first international release, Windows version 1.02, was released in May 1986. Windows version 1.03, released in August 1986, included enhancements that made it consistent with the international release, like drivers for European keyboards and additional screen and printer drivers. Windows version 1.04, released in April 1987, added support for the new IBM PS/2 computers, although no support for PS/2 mice or new VGA graphics modes was provided. However, on May 27, 1987, an OEM version was released by IBM, which added VGA support, PS/2 mouse support, MCGA support, and support for the 8514/A display driver.
Succession: Windows 2.0
In November 1987, Windows 1.0 was superseded by Windows 2.0.
Features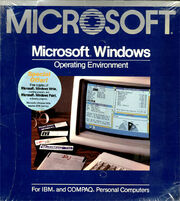 Windows 1.0 System requirements:
Video:

CGA

/

HGC

/

EGA

DOS: MS-DOS 2.0
RAM: 256 KB or more,
Disk Drive(s): 2 double-sided disk drives or hard drive.
Windows 1.0 included programs:
Clipboard

Print Spooler

Terminal
Gallery
External links