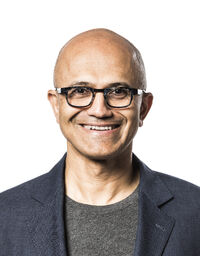 Satya Narayana Nadella (born August 19, 1967) is the current chief executive officer (CEO) and chairman of the board of Microsoft.
Early life and education
Nadella was born in 1967 in Hyderabad, India to a Telugu-speaking Hindu family. He attended the Hyderabad Public School in Begumpet and received a BSEE from the Manipal Institute of Technology. In 1984, Nadella immigrated to the United States to earn a MS in computer science from the University of Wisconsin–Milwaukee in 1990, and a MBA from the University of Chicago in 1996.[1][2][3]
Career
Prior to working at Microsoft, Nadella was a member of the technology staff at Sun Microsystems.[3]
Microsoft
Nadella joined Microsoft in 1992 and rose to become the executive vice president of the Cloud and Enterprise group, responsible for building and running the company's Computing Platforms, Developer Tools and Cloud Computing Services. Nadella was appointed as CEO on February 4, 2014, succeeding Steve Ballmer.[4] By 2020, Nadella became one of the largest individual shareholders of Microsoft.[5]
On June 16, 2021, the Microsoft board announced that they had unanimously voted to appoint Nadella as its chairman, succeeding John W. Thompson, who remains on the board as lead independent director.[6] According to Thompson, Nadella "earned the right to be chairman of the board" after overseeing a 650% growth in market value of the company to over $2 trillion.[7] Nadella's success has been tied to his strategy of shifting Microsoft's business model from traditional desktop PC software to cloud computing.[8][9]
Personal life
In 1992, Satya Nadella married Anupama "Anu" Priyadarshini, who received a B.A. in architecture from Manipal, where he had also studied. They had three children: a son Zain, and daughters Tara and Divya.[10][11] Their eldest child Zain suffered perinatal asphyxia during birth on August 13, 1996 and became afflicted with cerebral palsy.[12] This event transformed their family life and the Nadellas raised $15 million for research and development into precision medicine and neuroscience.[13] Zain passed away from complications on February 28, 2022 at the age of 25.[12][14]
Gallery
Bibliography
References
External links
Articles
Stub

This article is a

stub

, an article too short to provide more than rudimentary information about a subject. You can help the Microsoft Wiki by

expanding it

.