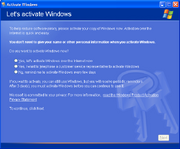 Microsoft Product Activation is form of copy protection used by Microsoft to reduce the spread of unauthorized copiies of their software and to combat software piracy.
Most Microsoft products (starting with Windows 95 and Microsoft Office 95) come with product keys that must be inputted during the setup of a Microsoft product to allow installation continue and to verify the product is genuine.
As an additional step, the product may also require "activation", which involves contacting Microsoft by phone or by direct Internet access, whereupon Microsoft will supply an "activation key", which verifes Microsoft has examined the Product Key and has confirmed the software is authorized and not pirated. This is first used in Windows XP and Microsoft Office XP, and has been used in every Windows and Office version since.
For this purpose most products, especially most versions of Microsoft Windows, now use the Microsoft Genuine Advantage program, which in installed via update or comes pre-installed on most contemporary Microsoft Windows operating systems.
If not activated within a grace period, some functionally will be removed (Windows Vista SP1 and above) and the product might be nonfunctional (Windows XP, Windows Server 2003, and Office)
External Links
Community content is available under
CC-BY-SA
unless otherwise noted.