Jurassic World: Dominion Dominates Fandom Wikis - The Loop
Play Sound
Microsoft Edge

is a cross-platform web browser developed by Microsoft, released in 2015 for Windows 10 and Xbox One, for Android and iOS in 2017,[1] for macOS in 2019,[2] and for Linux in 2020;[3] it can replace Internet Explorer on Windows 7, Windows Server 2008 R2 and later versions but unlike IE, this browser does not support Windows Vista and earlier versions. The Chromium-based Edge replaced Internet Explorer (IE) in Windows 11 as the default browser.
Edge was initially built with Microsoft's own proprietary browser engine EdgeHTML and their Chakra JavaScript engine, a version now referred to as Microsoft Edge Legacy. It was later rebuilt as a Chromium-based browser using the Blink and V8 engines.
It is designed to be a lightweight web browser with a layout engine built around web standards. It does not support ActiveX, Browser Helper Objects or Adobe Flash Player. However, it adds new features such as integration with Cortana, annotation tools, and a reading mode. Extension support was added to Edge with the release of the Windows 10 Anniversary Update on August 2, 2016.
Edge is the fourth most popular desktop web browser as of 2022.[4] Microsoft remains third among browser development companies when including legacy Internet Explorer users.[5]
Features
Microsoft Edge is the default web browser on Windows 10, Windows 11, Windows 10 Mobile, Xbox One and Xbox Series X and Xbox Series S consoles, replacing Internet Explorer 11 and Internet Explorer Mobile.[6]
Microsoft initially announced that Edge would support the legacy MSHTML (Trident) browser engine for backwards compatibility, but later said that, due to "strong feedback," Edge would use a new engine, while Internet Explorer would continue to provide the legacy engine.
Favorites, reading list, browsing history and downloads are viewed at the Hub, a sidebar providing functionality similar to Internet Explorer's Downloads manager and Favorites Center.
Edge features a PDF reader,[7] and supports WebAssembly. Until January 2021, Edge also featured an integrated Adobe Flash Player (with an internal whitelist allowing Flash applets on Facebook websites to load automatically, bypassing all other security controls requiring user activation).[8]
Edge uses an extension system, and does not support legacy technologies such as ActiveX and Browser Helper Objects. Preliminary support for browser extensions was added in March 2016, with build 14291, three extensions were initially supported. Microsoft indicated that the delay in allowing extensions and the small number was due to security concerns.[9]
Internet Explorer 11 remains available alongside Microsoft Edge on Windows 10 for compatibility purposes; it remains nearly identical to the Windows 8.1 version and does not use the Microsoft Edge engine as was previously announced.
Edge integrates with Microsoft's online platforms to provide voice control, search functionality, and dynamic information related to searches within the address bar. Users can make annotations to web pages that can be stored to and shared with OneDrive, and can save HTML and MHTML pages to their computers. It also integrates with the "Reading List" function and provides a "Reading Mode" that strips unnecessary formatting from pages to improve their legibility.
Support for build-in VPN was added in May 2022. The VPN service called, Edge Secure Network is powered by Cloudflare.[10]
HTML5 standards
Edge originally lack support for open media standards such as WebM and Opus, but these were later added in Edge 14.14291. As of August 2020, Edge 84 had scored 496/555 on HTML5test.[11]
Development
Edge Legacy (2014-19)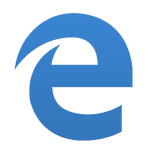 EdgeHTML
This section is a stub, you can help Microsoft Wiki by expanding it.
EdgeHTML was the proprietary browser engine originally developed for Edge. It was a fork of MSHTML (Trident) with all legacy code of older versions of Internet Explorer removed, with the majority of its source code rewritten to support web standards and interoperability with other modern browsers. EdgeHTML was written in C++.
The rendering engine was first released as an experimental option in Internet Explorer 11 as part of the Windows 10 Preview 9926 build.
EdgeHTML was meant to be fully compatible with the WebKit layout engine used by other browsers such as Chrome and Safari.
A review of the engine in the beta Windows 10 build by AnandTech found substantial benchmark improvements over MSHTML (Trident), particularly its new Chakra JavaScript engine performance, which had come up to par with that of Google Chrome. Other benchmarks focusing on the performance of the WebGL API found EdgeHTML to perform much better than Google Chrome and Mozilla Firefox.
New Edge (2019-present)
On December 6, 2018, Microsoft announced its intent to rebuild Edge on the Chromium source code, using the same rendering engine as Google Chrome but with enhancements developed by Microsoft. It was also announced that there will be versions of Edge available for Windows 7, Windows 8, and macOS, plus that all versions will be updated on a more frequent basis.[12][13] On April 8, 2019, the first builds of the new Edge for Windows were publicly released.
On May 20, 2019, the first preview builds of Edge for macOS were released to the public, marking the first time in 13 years that a Microsoft browser was availalbe on the Mac platform[14] – the last time a Microsoft browser was available for macOS was Internet Explorer for Mac, whcih was withdrawn in January 2006.
On June 18, 2019, IAmA post on Reddit, an Edge developer stated that it was theoretically possible for a Linux version to be developed in the future, but no work had actually started on that possibility.[15] On June 19, 2019, the new Edge was made available for testing on both Windows 7 and 8 devices.[16]
Microsoft recommends that Windows 10 and 11 users switch to the newer Chromium-based Edge browser for improved privacy and security.[17] For legacy sites that can only function with the Internet Explorer browser, Edge users can enable "Internet Explorer mode" (IE mode) to switch from Chromium to the legact MSHTML engine to handle such circumstances.[18] Microsoft stated that this feature would be supported in Edge until at least 2029.[19]
Reception
In an August 2015 review by Dan Grabham of Techradar of Windows 10, Microsoft Edge was praised for its performance, albeit not being in a feature-complete state at launch.
Andrew Cunningham of Ars Technica praised the browser for being "tremendously promising", and "a much better browser than Internet Explorer ever was", but criticized it for its lack of functionality on-launch.
Thom Holwerda of OSNews criticized Edge in August 2015 for its hidden URL bar, lack of user friendliness, poor design and a tab system that is "so utterly broken it should never have shipped in a final release". He described the browser's implemented features, "Infuriating doesn't even begin to describe it" and "some sort of cosmic joke".
Data from August 2015, a few weeks after release, showed that user uptake of Edge was low, with only 2% of overall computer users using the new browser. Among Windows 10 users usage peaked at 20% and then dropped to 14% through August 2015, as users tried it and many stopped using it in favor of other browsers.
Glitches
Sometimes, Microsoft Edge will lose its titlebar. It will come back within a few seconds, but the close-minimize-maximize buttons are gone as well as the window cannot be dragged. This is fixed by doing stuff like alt-f4, etc. NOTE: This glitch is only in the Creators Update, due to the window manager, dwm.exe failing. You can also help make this rarer by restarting dwm.exe in task manager, dwm is Desktop window manager.
Sometimes, Microsoft Edge will not work, and cannot be closed without Task Manager. It will just be draggable everywhere, like the titlebar. This is only in Creators Update.
Sometimes, Microsoft Edge will not load right, with no window stuff. This also happens with other apps. You need to close them with Task Manager, and this glitch is only in the Creators update.
Gallery
References
External links